Created by Natalia Malevanaya
Edit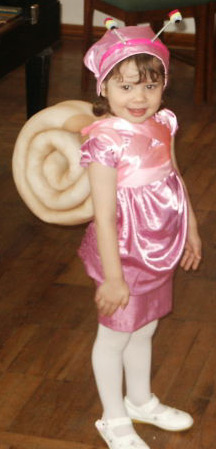 I made this costume from my pijamas pants, pantyhose and polyester fabric (for the coiled shell). The tentacles are store-bought, with eyes glued to them. The length of the dress can be varied from short to long depending on what is needed (with long shirt, Katjusha moved really slow, as a real snail!).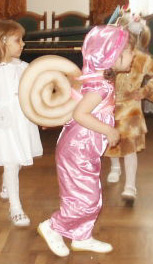 Created by Penny Richards
Edit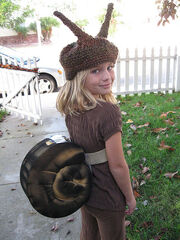 I made this costume from foam rubber, spray paint, velcro strapping, duct tape and yarn. The eyestalks are part of a crocheted cap, improvised. The shell is a rolled up piece of foam rubber, secured with yarn and duct tape, spraypainted, and attached to the child with velcro straps. The front of the child's shirt (not seen in this photo) has strips of duct tape for the silvery "slime" on the snail's bellyside.
Community content is available under
CC-BY-SA
unless otherwise noted.