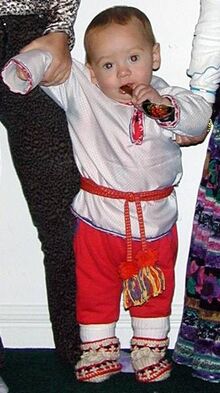 Red or blue pants tucked into white socks, a white shirt with contrasting stripes, a woolen belt adorned with tassels. Thick knitted baby shoes imitate traditional lapti (Russian bast shoes).
Another Version
[
]

The main part - a skewed-collared shirt, called "kosovorotka" - is made from an old checked table linen. I used a traditional pattern resized for the boy. The front and back body parts are made from one rectangular piece of fabric with a gap for the neck and a short front opening of the left side. Sleeves are slightly narrowed trapezoids. Also, slightly narrowed trapezoids are sewn on sides of the body below the sleeves. On the middle top of each side inserts is made an incision 10 cm long. Square inserts (10x10cm) from a contrasting green fabric (is was originally a decorated line on the hem of the table linen) are sewn to the sides of these incisions and to the top parts of the sleeves. The same green fabric is used to cover the collar and front opening. Hems are made slightly below a wide decorating green line which was on the linen.
The shirt is worn loose and girdled with a woolen belt. OshKosh blue pants with thin stripes look similar to traditional Russian pants. They are wrapped with cloth leg wraps worn with lapti which were purchased in a souvenir store.