m

 

(5 intermediate revisions by one other user not shown)
Line 1:
Line 1:
−

==Created by [[User:Costumelover]]==

+

==Created by [[User:Costumelover]]==

 
⚫
−
 
 
+

Black velvet top and skirt. White squares are attached to the skirt in two rows (first, I planned three but there was no space for more). Their size was calculated accordingly to fit an even number of squares along the hem. The top row is a little bit smaller because the skirt is more narrow there. A few contrasting chess figures are applied to some squares.

⚫
 
−
 
−
 
−
 
 
 
 
+

The collar and sleeves are decorated with a broad white lace with golden trim. A large golden crown is cut from some fine shiny fabric and attached to the front. We already had a golden crown for the head and a black cape.

 
 
 

==Created by Himoroda==

 

==Created by Himoroda==

 
 
−

[[Image:chess-himoroda.jpg|left|thumb|200px]]

+

[[Image:chess-himoroda.jpg||thumb|]]

−
 
−
 
−
 
 
 
 

==Created by Milena Shinkovskay==

 

==Created by Milena Shinkovskay==

 
 
−

[[Image:chess-shinkovskaya.jpg|right|thumb|200px|]]

+

[[Image:chess-shinkovskaya.jpg||thumb|200px|]]

 
 
 
⚫
 
+

[[Category:Things]]

 
 
 
+

[[ru:Шахматная королева]]

⚫
 
---
Latest revision as of 14:24, 19 July 2008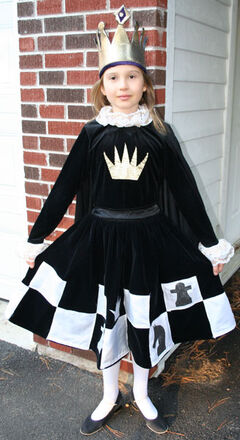 Black velvet top and skirt. White squares are attached to the skirt in two rows (first, I planned three but there was no space for more). Their size was calculated accordingly to fit an even number of squares along the hem. The top row is a little bit smaller because the skirt is more narrow there. A few contrasting chess figures are applied to some squares.
The collar and sleeves are decorated with a broad white lace with golden trim. A large golden crown is cut from some fine shiny fabric and attached to the front. We already had a golden crown for the head and a black cape.
Created by Milena Shinkovskay
[
edit
|
edit source
]
Community content is available under
CC-BY-SA
unless otherwise noted.