Supplied by Irina Prikhodko
Edit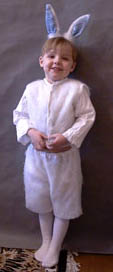 A white shirt and shorts from fleece, white tights and a headband with bunny ears.
Created by Julia Lavrick
Edit
A loose body suit from white fleece with swan's down attached to the collar and trousers. Additional bands of down for wrists. A tial from a fleece circle, with swan's down attached around it. Headband and ears with bristol borad inserts are covered with fleece, small pieces of down are attached to the ears' base.
Created by Elena
Edit
A body suit with a cap from a white sheet. Pieces of long artificial fur are attached to wrists and trousers, around ears and under chin (it covers a zipper there). One piece of bristol board is cut and inserted in ears and back of the cap for better support.
Created by Olga Verochek
Edit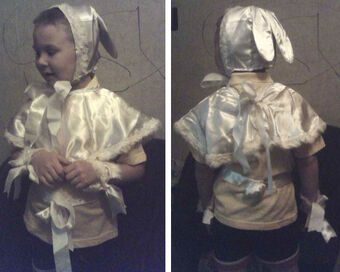 White satin, furry braid and satin ribbon. A headdress is constructed after a baby cap, bristol board is inserted in ears. A wide collar is tied up on the back. Ribbons with fur around wrists. A tail is attached to a ribbon around waist.
Created by Marina Golubeva
Edit
Community content is available under
CC-BY-SA
unless otherwise noted.